Demolition Services
CARDAN Demolition provides progressive deconstruction services using state of the art technology and environmentally friendly solutions.
From small hourly jobs to large-scale projects we deconstruct almost anything including houses, bathrooms, kitchens, basements, garages, sheds, swimming pools, patios, decks, porches, fences, barns, out buildings, low and high rise buildings, industrial buildings, plazas, warehouses, movie sets, bridges, and many other structures.
CARDAN Demolition approaches every project differently by identifying the project's unique requirements and selecting the right machine and technology to ensure the work is done is a safe and efficient manner. Each project comes with a unique set of requirements and challenges, so a specific estimate is always necessary. However, all quotes are absolutely free!
All estimates include an initial site visit and formal written quotations that detail: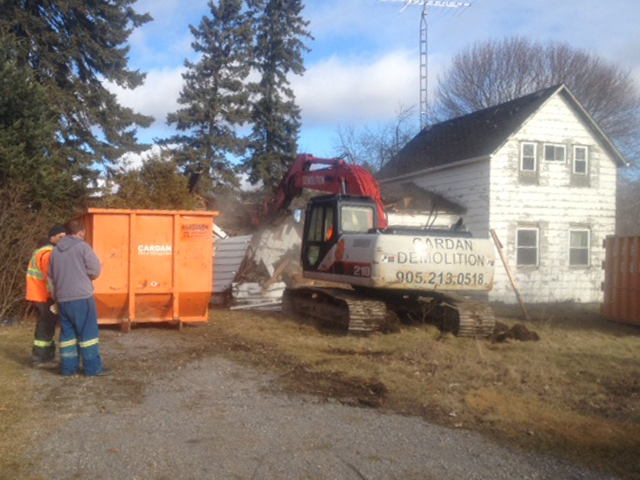 time required to do work
project production schedule
site comments & recommendations
cost and payment terms
We work closely with our clients to assess the deconstruction challenges, safety concerns and environmental impact, and then we formulate a unique step-by-step demolition strategy for each particular site. We take the time to explain the demolition process in detail so that you will know what to expect. CARDAN Demolition takes a hands-on approach to all our projects. Our trained staff will remain on site for the duration of every project - large and small.
We have a wealth of experience and are experts at overcoming tight deadlines and working within dense surroundings of any urban demolition projects. We take every precaution to ensure our demolition jobs are strictly controlled, and careful measures are afforded to ensure adjacent structures are not damaged.
There are many aspects to each project that needs to be considered, including: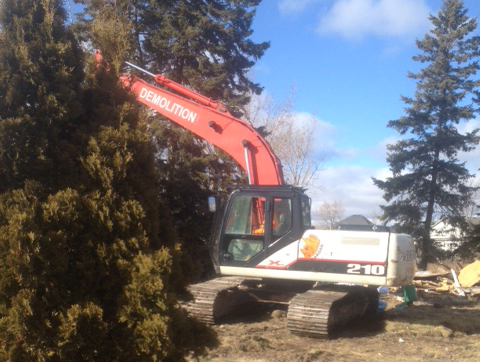 The regulatory environment,
Waste removal and environmental concern,
Salvaging and investment recovery,
Soil remediation,
Site decommissioning contractors,
Handling of hazardous/non-hazardous materials.
Before demolition is performed on any site, CARDAN Demolition makes sure there are no hazardous materials (i.e. asbestos), disconnects all utilities (i.e. gas and hydro), obtains all the necessary permits, identifies any potential challenges or risks and develops a comprehensive project plan and safety strategy.
CARDAN Demolition has a sterling reputation for taking every reasonable measure to responsibly
maintaining a safe and healthy work environment for our personnel, the customer, and the general public.
We always comply fully with all local regulations, the Ontario Occupational Health & Safety Act, Workplace
Safety and Insurance Board requirements.
CARDAN Demolition has established comprehensive Health & Safety policies which all our staff adhere to every project. We ensure all our staff members partake in the training and certification required to work on our demolition sites.
CARDAN Demolition is also very concerned with the environmental effects of construction and demolition projects. For this reason, we use only registered recycling facilities for the disposal of all debris in accordance with MOE and MOL guidelines, and we can help with LEED requirements.
Through our highly trained and experienced staff CARDAN Demolition offers a full range of environmental services including soil remediation, asbestos, lead, mold abatement and removal of all hazardous materials (i.e. mercury and PCB's) in a safe and effective matter.
Once the demolition is complete, the waste material is then sorted and hauled to either a transfer station or recycling depot.
We recycle as much of the demolition waste as possible.
Call CARDAN Demolition today at 905-697-9200 for your next demolition or excavation project.
Free estimates and competitive prices!