Demolition & Excavation Contractor
CARDAN Demolition is a family owned and operated business that has been providing demolition and excavation services for over 15 years. We place great emphasis and commitment to customer satisfaction, efficiency, high quality service and safety.
We have a fully staffed Operations Center in Bowmanville, Ontario with professional, courteous and friendly service technicians ready to assist you with your demolition and excavation needs 7 AM – 5 PM, Monday – Friday.
We provide very competitive rates for demolition and excavation services in Durham Region, Toronto, and the GTA. If you bring it to our attention at the time of your order that a competitor is offering a lower estimate we will do our utmost to price match.
CARDAN Demolition serves commercial, industrial, residential and construction demolition and excavation needs across Durham Region, Toronto and GTA including Oshawa, Clarington, Port Hope, Brighton, Cobourg, Peterborough, Port Perry, Brooklin, Whitby, Ajax, Pickering, Toronto, Markham and Mississauga.
The CARDAN Demolition team has the analytical skills, technical expertise, extensive experience and modern equipment necessary to offer the full range of demolition (selective and total), excavation, soil remediation, asbestos abatement services.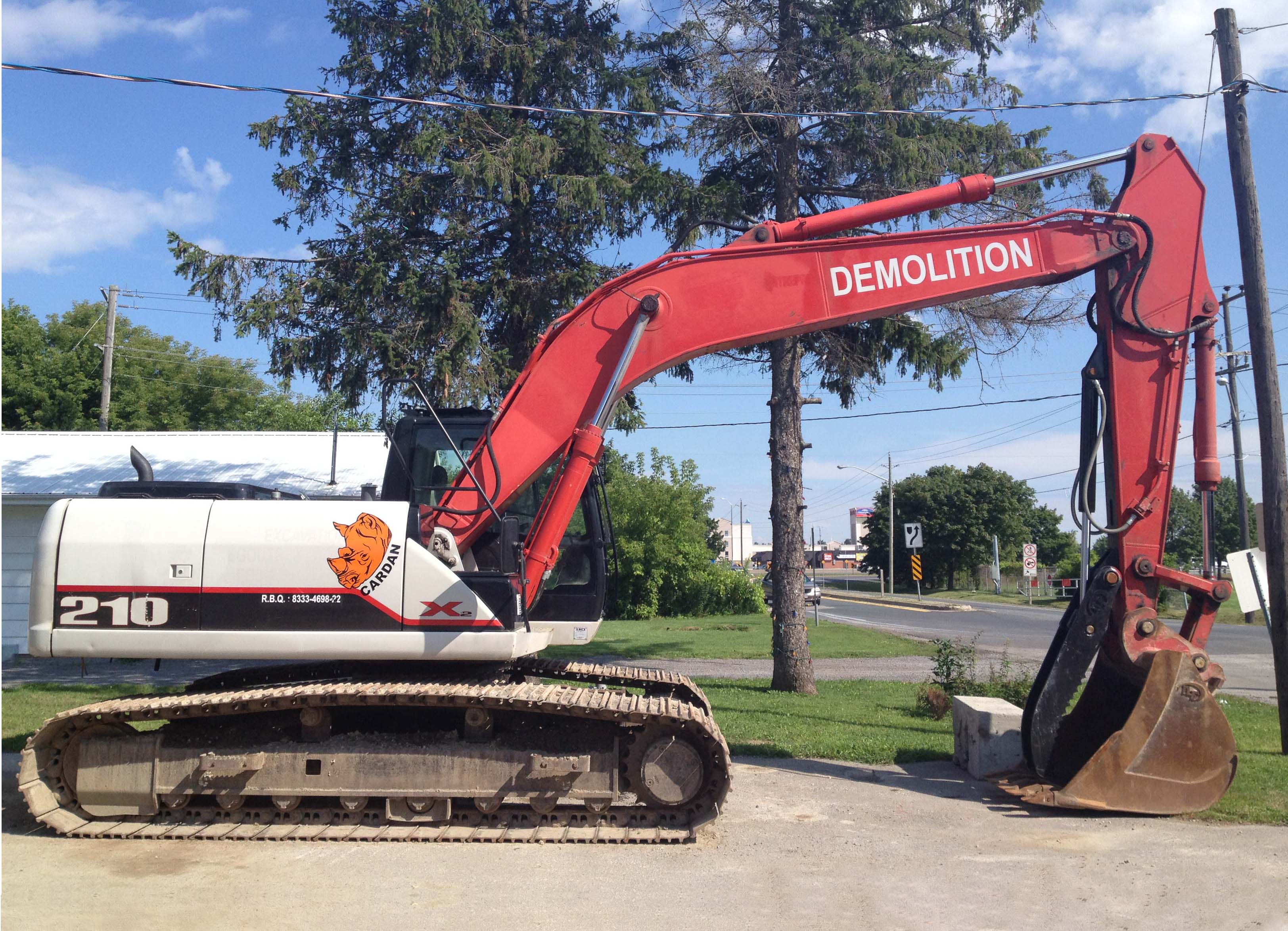 CARDAN Demolition has built a solid reputation for:
providing safe, professional and well organized demolition work
having modern equipment and technology
having exemplary technical expertise
being on time and on schedule
having extensive experience
providing quality service
being responsive
CARDAN Demolition's can handle any size of demolition project - large or small.
CARDAN Demolition's well trained team understands the challenges involved with conducting strip-outs and removals within occupied buildings. We have earned a reputation for developing strategies and innovative procedures that enable us to safely and reliably complete any type of full or selective demolition work within tight time frames.
CARDAN Demolition's core values include personal safety, environmental conscientiousness, customer satisfaction, and quality service. We understand these values are vital in securing and maintaining trust and creating strong business relationships with our customers.
The safety and well-being of our customers, our employees and the general public is CARDAN Demolition's primary concern throughout all phases of projects. Our exemplary safety record speaks for itself and is proof that we are committed to accident free demolition sites.
We are a licensed, bonded and fully insured company with premium liability coverage, and our service technicians are fully trained and certified.
The CARDAN Demolition team has been trained and educated to perform their jobs safely in accordance with legislation, established procedures and safe work practices including:
General Safety Rules
First Aid
Accident / Incident Investigations
Personal Protective Equipment
Corporate Safety Policy & Responsibilities
Health & Safety Committee
Safety Training & Education
WHMIS (Workplace Hazardous Materials Information System)
Monitoring Workplace Exposures
Hazard Assessments
Medical Examination and Health Monitoring
Safety Inspections
Maintenance of Tools & Equipment
CARDAN Demolition approaches every job with consideration to the environment. Therefore we follow a very strict code of rules and regulations in order to guarantee every deconstructed site is properly handled in an ecologically friendly manner.
We are well equipped to offer a range of cost-saving services in waste management, resource efficiency and material recycling. Our waste management adheres to codes of good environmental practice. We re-use, recycle and recover material and wastes produced throughout every project.
Call CARDAN Demolition today at 905-697-9200 to get your demolition project underway.
Free estimates and very competitive prices!